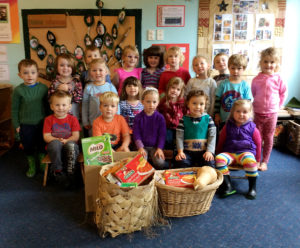 Kia ora – thank you to all whānau that attended our Matariki (Puanga) celebrations and contributed kai to our Food Bank Appeal.
One hundred and fourteen people attended the event and it was great to meet the wider whānau and share kai.
Our tamariki were especially proud to contribute their pumpkin soup, jams, feijoa muffins, freshly squeezed orange juice, basil pesto, chips and chutney for this occasion.
Some of the pumpkins, the basil and the potatoes were all grown by the children at Kindergarten The feijoas and guava's came from the trees at Manu and the chutney was made from green tomatoes that we harvested at the Community Orchard on Forest Friday.